As you begin to research your career as a medical assistant (MA), you will come across various educational programs.
Some of these programs have gone through the process of accreditation, where an outside agency (accreditor) comes in and makes sure that the institution or program meets appropriate standards of education.
Although this process is optional for educational institutions, you should keep in mind that increasingly more employers are requiring graduation from an accredited medical assistant program.
The accreditation process evaluates the following categories of the program or institution:
Overall mission of the institution
Sound financial practices
An approved program of study
Qualified instructors
Curriculum standards, courses and goals
Adequate facilities and equipment for training
Requirements for admissions
Services to students
Student evaluations
Fair practices
By attending an accredited program, you can be sure that you are making a good investment financially and that you can trust the education you are receiving. The other side of the issue is the potential risks of attending an unaccredited program:
Employers may not recognize an education from an unaccredited program or institution, making it difficult for you to find a job.
You cannot receive federal financial aid if you attend an unaccredited school or program
You may be unable to pay off student loans if you cannot find a job
Your courses may not count toward further education
You will not be eligible to sit for CMA (Certified Medical Assistant) or RMA (Registered Medical Assistant) certification examination
And more…
CAAHEP & ABHES accreditation
Since accreditation can make such a big difference in your career, it is helpful to know more about the organizations that provide accreditation and where they get their authority from.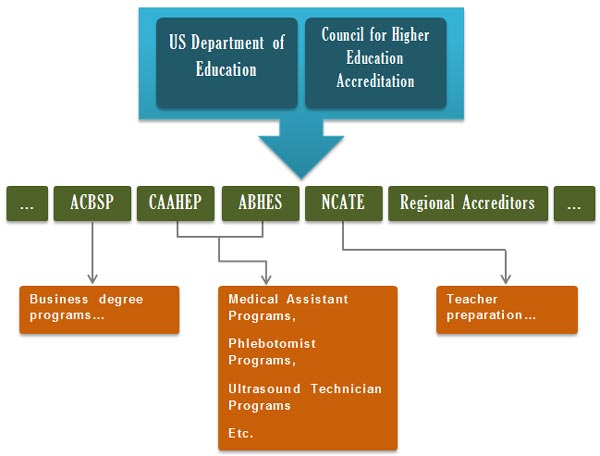 The US accreditation system is structured hierarchically in the form of a pyramid. At the very top there are the
governmental USDE (United States Department of Education)
the non-governmental and non-profit CHEA (Council for Higher Education Accreditation).
Their purpose is not to accredit educational institutions and/or programs. Rather, they provide authoritative recognition to many different accreditors that meet their specific set of standards.
This means that you can be absolutely certain that any accreditor recognized by USDE or CHEA will be legitimate and trustworthy.

Among these recognized accreditors, there are two which specialize in accrediting entry-level, allied health education programs:
the CAAHEP (Commission on Accreditation of Allied Health Education Programs)
ABHES (Accrediting Bureau of Health Education Schools).
Among others, they provide accreditation to the following types of programs:
Paramedics
Massage therapy
Vocational Nursing
Emergency Medical Technician
MRI Technician
Ultrasound Technician
Etc.
These two accreditors also accredit medical assistant programs. They will check out the institution and the affiliated program and make sure they meet certain standards before giving their stamp of approval.
Specifically, they will ensure that the program/school does the following:
Is affiliated with a credible institution
Has, at minimum, the goal of preparing medical assistants with the knowledge, skills and behaviors they need to be competent
Is appropriately resourced with faculty, staff, classroom/laboratory space, finances, office space and equipment
Utilizes curriculum that meets or exceeds the standards of the Medical Assisting Education Review Board (MAERB)
Evaluates students with appropriate frequency and standards
If you are interested in online/distance MA programs, you should still seek accredited programs. Even though the context is different, they also have to meet certain educational standards:
Curriculum is well-designed and approval for these courses is the same as for regular courses
Faculty have training in online/distance education
Faculty have resources needed to conduct online/distance education
Appropriate student and academic services are offered
Students have good avenues to be evaluated and assessed
Functionally, the CAAHEP and ABHES are very similar, so there is no need to seek one type of accreditation over the other.
Both are recognized nationwide and have similar evaluation standards, and both maintain the goal of promoting a high quality of education for those who seek careers in health care.
If your goal is to be certified (CMA) or registered (RMA) as a medical assistant, holding a diploma or an associate's degree from a school or program with either type of accreditation will work for you.
However, you should be aware that there are MA programs that are accredited by agencies that have not been recognized by the USDE or CHEA.
So-called "accreditation mills" give the appearance of being recognized as accreditors, but they have not actually undergone an officially acknowledged evaluation process.
In order for you to be sure that your program and school is officially accredited, you may check the databases at:
CAAHEP and ABHES: Are they the only ones?
CAAHEP and ABHES are not the only agencies involved in upholding the high standards of the allied health professions.
There are also for-profit certification organizations such as the
NHA (National Healthcareer Association)
NCCT (National Center for Competency Testing).
Unlike the CAAHEP or ABHES, these agencies work directly with health training institutions to develop health training programs. In order to earn a certification you must complete one of their programs, meet all of their eligibility requirements and pass an examination.
As with any accreditation process, CAAHEP and ABHES accreditation is voluntary. No school is obliged to have its MA program accredited by one of these agencies in order to meet all educational requirements.
In fact, if a program or school has a regional accreditation, they do not need CAAHEP or ABHES accreditation.
The six regional accreditors each cover a different geographical area of the United States and their institutional and programmatic accreditation standards are considered the most stringent.
The existence of regional accreditation is one of the reasons there are so many community and technical colleges offering medical assisting programs that have not been accredited by the CAAHEP or ABHES.
Does accreditation guarantee the transfer of credits?
No. This depends entirely on the college or university that you would like to transfer the credits to.
If you have taken courses for medical assisting and wish to transfer them, you should ask specifically about both the school and the program that you're interested in pursuing.