Since 2012, our practice tests have helped thousands of aspiring MAs to prepare for their CCMA/RMA/CMA examination, and that's not by chance. We went to great lengths to earn the trust of many community colleges and vocational schools as their go-to practice test provider.
CCMA
Certified Clinical Medical Assistant By NHA
---
180 min in length
150 single choice questions
4 answer options
Avg. Pass rate 75%
RMA
Registered Medical Assistant By AMT
---
120 min in length
200 single choice questions
5 answer options
Avg. Pass rate 72%
CMA
Certified Medical Assistant By AAMA
---
160 min in length
200 single choice questions
4 answer options
Avg. Pass rate 58%
1
Real Thing
Our practice tests are modeled after the real test in terms of length, timing, question types etc.
2
Free & No recurring charges!
You are free to test yourself as many times as you wish at no charge.
3
24/7
All tests are digital so they can be accessed instantly, from any device, and at any hour of the day or night to fit your schedule.
4
Instant scoring
Scores are instant, you get your scores on the spot immediately after finishing the test.
5
No Download
No need to download and install any additional software or app — you're all set with just a internet connection and a modern web browser.
6
Uncomplicated
No need to bother with a lengthy registration or sign up process. It's quick and easy to get started!
The quizzes are specially designed not only to help you assess your level of readiness but also to get you familiar with the types of questions and the overall style of the actual exam.
Check our comparison table to see how different medical assistant certificates stack up against each other.
One best answer: There is only one single best answer for each question and the order of questions is randomized.
Decoys: Like in the actual test, the questions purposefully contain what are called decoys that are answers that look and sound similar to the correct answer and are intended to confuse you.
Although, it won't be an exhaustive assessment of your knowledge it might help you to identify areas that may need further study. Not to mention, a good practice test can serve as an effective stress reliever, it:
saves you from unwanted surprises
helps to ease test anxiety or nervousness and build your confidence
helps you gauge how well you do under pressure
Look and feel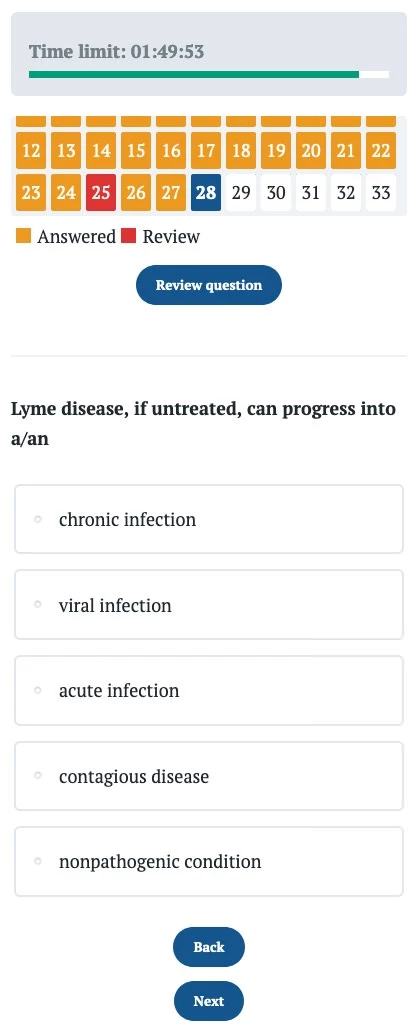 What's on the test?
There are a number of certifying bodies, each administering its own medical assistant certification exam. Although the test topics may be similar, keep in mind that the amount of weight given to specific subjects differs from organization to organization.
For example, the AAMA's CMA exam seems to put more emphasis on random office and billing related questions and less on questions dealing with clinical matters while a CCMA test seems to focus on clinical topics more than it does on questions pertaining to administrative duties.
As with any test, it's easy to pass (if you study) but it takes effort to earn a high score.
If you want some heads up on which topics to focus on more, here is a breakdown of the percentage of questions you can expect from each topic area:
Test duration: 120 min
Number of questions: 200
Multiple Choice: 4 options

Content Area
Est. % of total test

I. Anatomy and Physiology

Body Systems
Disorders and diseases
Wellness and nutrition
Medical Terminology

20.9%

II. Administrative Medical Assisting

Insurance
Financial Bookkeeping
Clerical
Medical Law and Ethics
Human Relations

26.7%

III. Clinical Medical Assisting

Asepsis
Sterilization
Instruments
Laboratory Procedures
Minor Surgery

18.6%

IV. Clinical Patient Interaction

Patient Instruction
Vital signs and Measurements
Physical Examinations
Clinical Pharmacology
Therapeutic Procedures
Laboratory Procedures
Electrocardiography (ECG)
First Aid, CPR, and Emergency Response

33.8%

Test duration: 160 min
Number of questions: 200
Multiple Choice: 5 options

Content Area
Est. % of total test

I. Clinical Competency

Clinical Workflow: Patient Intake and Discharge
Safety and Infection Control
Procedures / Examinations
Pharmacology

59%

II. General

Legal and Ethical Issues
Communication

21%

III. Administrative

Billing, Coding, and Insurance
Schedule Appointments and Health Information Management

20%

Test duration: 180 min
Number of questions: 150
Multiple Choice: 4 options

Content Area
Est. % of total test

I. Foundational Knowledge and Basic Science

Health care systems and settings
Medical Terminology
Basic Pharmacology
Nutrition
Psychology

10%

II. Anatomy and Physiology

Body structures and organ systems
Pathophysiology and disease processes
Microbiology

5.3%

III. Clinical Patient Care

General Patient Care
Infection control
Testing and Laboratory Procedures
Phlebotomy
EKG and Cardiovascular Testing

56%
IV. Patient Care Coordination and Education
8%
V. Administrative Assisting
8%
VI. Communication and Customer Service
8%
VII. Medical Law and Ethic
4.7%
How hard is the medical assistant exam?
In a nutshell, the phlebotomy, EKG, and billing related questions seems to be the most challenging. If you have work experience or have already taken a course on these topics, then you should have less trouble.
Many aspiring medical assistants are often wondering: How hard is the exam? How much studying is needed? What's the failure rate?
Some people find multiple choice tests hard, others don't, it depends on how you look at it. Those who take a more optimistic view on a MCT comfort themselves with the fact of having the simplest of all test formats.
It's just a set of questions each followed by a limited number of predetermined answers, the test-taker's job is simply to pick the correct one.
And now imagine to sit for a test – a REAL test – in which you're challenged by open-ended questions, a test where you are scored on your ability to use higher level thinking skills.
What would it be like to analyze materials, draw conclusions from it, organize the information into a coherent structure, and write the answer down in a clear and orderly fashion using your own words. It probably makes you shudder even to think of it – long live multiple choice questions!
It should also be noted, that many medical assistants mistakenly assume the questions on the practice test are identical to those on the real exam. By giving in to this dangerous fallacy it's not uncommon to have them taking steps leading to failure: Just go through the practice test a few times, note down all the correct answers, memorize, and get the certificate, they think.
They also erroneously believe the "knowledge" gained from such pseudo tests is directly applicable to the actual test, but nothing could be further from the truth.
As you might know, the sole purpose of a practice test is to help you to get familiar with the format, just to get you a sense of what the actual test will be like.
While it gives you a feel for the kinds of questions that you will encounter it by no means should be viewed as a substitute for thorough preparation but rather a small part of your overall study.
So to answer the question whether the test is hard? No, it's easy, provided you are well prepared. A good study guide accompanied by the willingness to put in the hours will definitely make it feasible.
Tips for solving multiple choice questions
What do things like losing weight, tooth brushing, and remembering the names of your new coworkers have in common? They all come down to one simple yet inescapable truth: discipline!
This inner impetus, besides fear, is probably the most effective means we humans have to get things done, it actually has always been, from the beginning of time.
What's true for losing some excess pounds holds also true for passing a multiple choice test – there is no way around it, you can only do well on tests by studying and practicing and then practicing and studying some more.
But no matter how hard you study, you might still find yourself struggling with questions on test day. Here are some tips to maximize your score.
You can divide the entire test into two cycles:
The first pass is really fast, it may help with questions later on and it ensures that you have enough time left at the end to recheck your answers. Sometimes, earlier questions and answers can provide insights into later questions.
Answer the question first in your head, before looking at the answer. Tackle as many questions as possible this way to minimize second-guessing.
Answer questions quickly. Do not spend more than 45 seconds on each question. If you need more time to answer it, flag it and come back to it later.
Flag all the questions you want to re-visit or where you feel uncertain.
If you run into challenging vocabulary, try breaking the words into their component parts and looking for clues in the prefixes and suffixes.
The second cycle is where you take a deeper dive. Most of your "first instinct" answers are typically left as is, but after re-reading them, you may gain a better sense of confidence about your answers.
Go back to those questions that were the most difficult and:
Use process of elimination to narrow down your answer to give yourself a better chance of the right one.
You can also try working the question in reverse, this may give you a new perspective.
If you still can't decide, select the choice that you feel gives you the best chance, even if it is a long shot.
Again, it can't be stressed enough to take the time and re-read every question, even if you feel confident.
On the test day before you leave the center, just go over your entire test once or even twice to catch any potential errors. It is almost certain that you will end up correcting yourself at least once.
---
Note: Please ensure you have JavaScript turned on in your browser. For optimal experience we recommend to use your desktop or tablet.
Media Attributions:
Background vector created by freepik - www.freepik.com