Medical Assistants (MAs) are often the first point of contact for many patients seeking treatment from a doctor, dentist, or other specialized medical professional. MAs can be found in clinics and physician's offices throughout the country.
Those who work in smaller offices are usually expected to perform both sets of duties. Depending on the individual facility, these MAs may also have additional duties assigned to them.
There are two main types of medical assisting positions: clinical and administrative.
MAs are currently in high demand and that trend is expected to continue for quite some time. According to the US Department of Labor, it is estimated that of the 20 fastest growing occupations, at least half will be in a medical related field.
Within the next decade, the employment of MAs is expected to grow by around 20%, which much is faster than the national average (7%)
The continuing growth of this field can be attributed to the following factors:
Technological advances continually being made in the medical field.
The number of routine clinical procedures performed by MAs is on the rise.
Our population is aging and growing.
An increase in the frequency of specific diseases, such as obesity and diabetes.
And more…
There are approximately 720,000 MAs practicing in the U.S. as of 2020. By 2030, this number is predicted to increase to 850,000 with more than 60% working in private practices.
The short video below gives you a pretty accurate real-world insight into what you can expect working in a small doctor's office
MA's can also be found in larger health care facilities like the one shown in the following video
The table below illustrates the employment share of medical assistants in each state, per 1000 job holders in different occupations sorted from the highest to the lowest
State
Employment per 1,000 jobs
New Mexico
9.203
Alaska
8.447
Hawaii
7.295
Oregon
6.907
Arizona
6.864
Maine
6.822
Florida
6.635
Delaware
6.410
Rhode Island
6.217
Texas
6.002
Georgia
5.993
South Carolina
5.876
California
5.824
Michigan
5.797
Indiana
5.753
Nevada
5.751
Oklahoma
5.732
Kentucky
5.671
Tennessee
5.474
Connecticut
5.467
Utah
5.365
Ohio
5.109
West Virginia
5.042
Pennsylvania
5.032
Maryland
5.017
Washington
4.967
Alabama
4.926
Wisconsin
4.888
North Carolina
4.720
Colorado
4.659
New Jersey
4.588
New Hampshire
4.543
Louisiana
4.473
Idaho
4.455
Massachusetts
4.228
Guam
4.161
Kansas
4.140
Virgin Islands
4.096
Vermont
4.004
Illinois
3.915
Virginia
3.872
Missouri
3.757
Iowa
3.597
Minnesota
3.440
Mississippi
3.405
Wyoming
3.317
Montana
3.094
Arkansas
3.038
New York
2.932
Nebraska
2.875
District of Columbia
2.711
South Dakota
2.232
North Dakota
0.841
Puerto Rico
0.601
Unlike many other industries, those in the healthcare field can expect to enjoy lasting job security for years to come. The only prerequisite for entering the medical assistant field is a high school diploma or an equivalent, such as a GED.
However, an increasing number of employers now prefer an applicant to become a certified medical assistant. There are many certificates that require you to complete a one- or two-year formal training program.
Pursuing this type of program may not be a bad idea anyway, as it might give you an edge over other candidates.
The average yearly income for medical assistants across the nation is $36,930. However, wages vary from state to state and office to office.
One way to increase your earning potential from the very beginning, would be to obtain formal training and a certificate.
Clinical medical assistants
There are two main types of medical assisting positions: clinical and administrative. Each position carries its own unique duties and responsibilities.
However, it is not uncommon for MAs that work in smaller offices to be tasked with both clinical and clerical work.
A clinical medical assistant's duties will often vary from office to office. But, for the most part, a clinical medical assistant handles day-to-day clinical duties such as:
Recording vital signs, weight, and height.
Prepping patients, equipment, and rooms for medical procedures.
Providing assistance to doctors during medical procedures.
Keeping the rooms neat, clean, and sanitized.
Keeping the office properly stocked with medical equipment and supplies.
Cleaning and sterilizing instruments and equipment.
Explaining treatment procedures to patients.
Preparing and administering medications as directed by the physician.
Disposing of bio-waste and contaminated supplies.
Depending on the employer and the qualifications of the individual, clinical MAs are sometimes responsible for other hands-on duties like:
Collecting specimen samples for testing.
Drawing blood or venipuncture.
Removing sutures.
Authorizing prescription refills.
Helping physicians examine and treat patients by providing them with instruments or materials.
Completing supportive tasks during examinations, such as giving injections.
Changing sterile dressings on wounds.
Operating electrocardiograms or X-ray machines.
Performing routine laboratory tests.
Some of the tools MAs must be familiar with include, but are not limited to:
audiometers
plethysmographs
blood pressure measuring equipment
nebulizers
spirometers
hypodermic needles
Administrative medical assistants
The duties of an administrative medical assistant usually take place behind a desk and usually doesn't include the same variety of tasks that a clinical MA performs.
These MAs handle basic paperwork, interact with patients, and arrange for hospital stays.
In some cases, they perform billing, insurance inquiries, and bookkeeping duties. As with clinical MAs, the responsibilities can vary from office to office. Some of these include:
Interviewing patients to obtain medical information.
Recording a patient's medical history.
Documenting information in medical records (such as test results).
Greeting patients.
Logging in patient arrivals.
Answering telephones.
Scheduling appointments.
Arranging for payment.
Completing insurance forms.
Ordering supplies and equipment for the medical facility, lab, or office.
In addition to knowing how to perform those specific duties, there are a few other qualifications and traits that successful MAs share. These include:
A desire to help others is paramount.
Must be familiar with computers and typing proficiency is a plus.
Since medical assistants often interact with patients and co-workers, it is important that they have good people skills. Individuals who enjoy interacting with people can thrive in this environment.
Organizational skills. It is vital that you utilize proper organizational skills when duties involve medical equipment, paperwork, and keeping track of patient information.
10 top work activities
The following data was compiled by the Bureau of Labor Statistics. It gives an overview of the daily work activities in which medical assistants are involved.
This data was collected from a survey sent to 1.2 million medical establishments in the United States.
Employers of larger medical facilities comprise most of the sample, so the information from the survey may be less accurate when applied to smaller health care facilities.
The following list provide a summary of the top 10 activities. Although all activities are important, not all of them have the same priority level. These are ranked from 1 to 10, with 1 being the most frequent and most important and 10 being the least frequent and least important.
1
Contact with People
Clinical MAs will experience a higher frequency of contact with others than administrative MAs. Nonetheless, contact with others is a major component of this particular job.
2
Telephone and computer
Handling telephone conversations, email communication, and data input on a daily basis.
3
Working in cadence with team members
Serve as a liaison between physicians, patients, and other medical personnel, while acting as a valuable member of the team or group.
4
Face-to-Face Communications
Dealing with patients, the family members of patients, co-workers, other medical professionals, and customers requires the ability to handle face-to-face discussions successfully and with ease while on the job.
5
Importance of Accuracy
Due to the nature of the job, it is important to be exact or highly accurate in job performance and all other activities.
6
Exposure to disease and/or infections
Some minor exposure to disease/infections may occur, but with the proper precautions, the danger is minimal.
7
Decision Making
Both clinical and administrative MAs must frequently make decisions that affect other people, the financial resources of the company, or the perceived image of the organization.
8
Impact of decision making on co-workers
The decisions made by clinical and administrative MAs typically affect other individuals including patients, co-workers, company owners, customers, and more. However, not everyone involved is always directly affected.
9
Indoor Environment
Both clinical and administrative MAs spend the majority of their working time in an indoor environment.
10
Standing on your feet
Both clinical and administrative MAs may spend some time standing on their feet while performing their work duties. In general, clinical MAs will spend a greater amount of time doing so.
Medical assistant training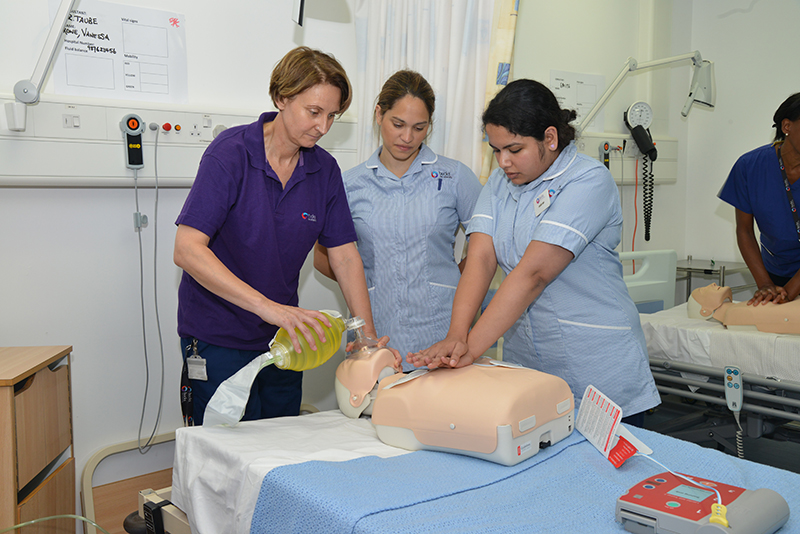 There are various training paths that can lead to a career as a medical assistant. Many students enroll in a one-year post-secondary program at a community or technical college, to obtain their certification.
However, about 40% go through a two-year associate's degree program with the intent to move on later. Also, depending on the employer, you might be able to receive on-the-job training.
If that is the case, there is no need to complete a program and gain a certification. It then becomes the responsibility of the hiring medical professional to teach you the required tasks and duties for keeping the office running smoothly.
It is estimated that 11% of all MAs have taken this on-the-job training route.
Unlike other occupations in the healthcare industry that require a license to legally be employed, medical assistants have no legal obligation or compliance standards.
However, according to statistics more and more employers prefer to hire certified medical assistants, such as CMAs or RMAs.
Moreover, when pursuing a job, certification gives you a professional edge over other candidates vying for the same positions. As a result, you are more likely to enjoy better job prospects and higher wages.
That's one of the reasons why nearly 60% of all MAs are already certified, with the trend on the increase.
To be eligible to take a CMA certification examination for example, an aspiring CMA must have previously completed a post-secondary medical assisting program accredited by either:
Commission on Accreditation of Allied Health Education Programs (CAAHEP)
Accrediting Bureau of Health Education Schools (ABHES)
So when enrolling in a medical assisting program, be sure to pay attention to whether or not your program is accredited by one of these organizations.
After completing your training, you may choose from four different organizations that grant certification in medical assistance:
All of them are equally respected associations, offering nationally recognized medical assisting certifications. However, each entity has its own individual requirements.
Some require the assistant to have some job experience, while others require completion of a specific program. In most cases, an applicant must be at least 18 years of age before applying.
Career development
Obtaining a job as a medical assistant is also an excellent way to break into more advanced jobs in several different fields.
Many medical assistants are able to put their experience to good use in the medical industry by becoming nurses. Others branch out into other fields such as teaching.
Office managers, financial assistants, and accounting assistants are all examples of common jobs that medical assistants often carry out after leaving a medical assistant position.
Clerical and administrative medical assistants in particular, gain experience that can be used in many other industries that have office components.
Clinical MAs can progress or specialize in specific medical fields, such as ophthalmology, podiatry, or optometry. Medical assisting is an excellent field that promises to increase in demand, while also broadening an individual's employment opportunities.
What are the working conditions of a medical assistant?
Medical assistants may require long hours on their feet and they must move with the pace of a busy clinic. Especially in hospital settings, MAs may be required to work over 40 hours at times and work irregular shifts.
This is also true for any 24 hour facilities, where one will most likely be expected to work evenings and weekends in certain rotations. But for the most part, it's more regular daytime work hours.
Working conditions also depend on the type of location. Approximately 72% of medical assistants work in smaller medical facilities that employ fewer than 100 people.
However, there are also jobs available in private and public hospitals. Here is the breakdown of the largest employers :
Offices of physicians 57%
Hospitals; state, local, and private 15
Outpatient care centers 8
Offices of chiropractors 4
In all cases, the conditions of the work place should be sterile and well-lit. The pace of each type of environment will differ greatly.
The universal expectation is that you possess the ability to handle many responsibilities at once, while consistently interacting with clients and other staff.
Your work environment will also be dictated by your specific responsibilities. Working in the patient area of the office means more time on your feet assisting with medical duties, while working in the front office dealing with clerical matters will be more sedentary.
There is always going to be some level of on-the-job training, no matter where you are employed. You will be required to be active, meticulous, and a good problem solver as part of your job expectations.